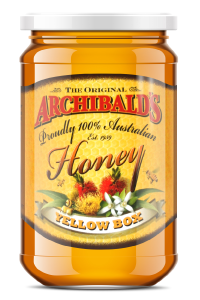 YELLOW BOX
Produced from Yellow Box trees (Eucalypt Melliodora) meaning honey scented Eucalypt. These trees are a beautiful shape, graceful, with drooping branchlets, very picturesque, growing in gullies, mostly out of flood reach. They are wide spread in Victorian foothills.
Yellow Box honey is a well renowned, favoured honey variety in Australia. It is a superb, very aromatic, table honey - the sweetest tasting, and one of the slowest candying honeys - which makes it very desirable for home use.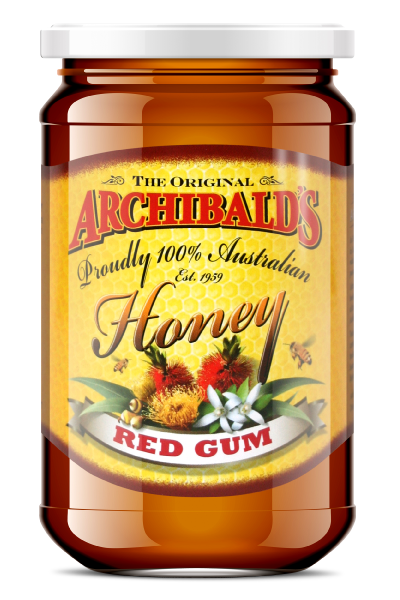 RED GUM
Produced from beautiful, majestic Red Gum trees, so often depicted in Australian artworks. Among the many varieties of this tree, River Red Gum is predominant for honey production.
Mostly growing in the pristine outback river courses where they get flooded periodically Beekeepers prize a Red Gum honey flow, as it produces pollen & nectar, which in turn, produces healthy, strong breeding hives. Honeys vary in their density, according to variety; Red Gum is usually a very dense honey.
This honey has its own unique flavour, a superb Australian table Honey. A little less sweet than Yellow Box with a subtle sharpness to tempt a discerning palate.
ORANGE BLOSSOM
Orange Blossom is produced from Australian Orange groves only. This honey has a very distinct flavour, a unique citrus after taste. This is a honey with a difference, but still completely natural - no additives at all. Orange blossom honey production is specialized in a very short flowering, season and so is not as plentiful as other varieties.
We recommend you try this honey if you like something with a difference. A very aromatic, especially light coloured honey.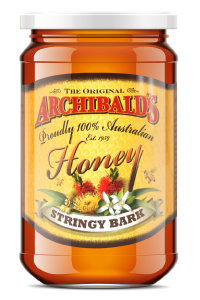 STRINGY BARK
There are many varieties of Stringy Bark trees, all slightly different, but we pack them all under the one label. The predominant species being Red Stringy Bark (Eucalyptus Macrorhynhca). These trees are named after their characteristic deep fissured fibrous bark - unlike our smooth barked gum trees.
Stringy Bark honey is a stronger, darker honey which is the honey of choice for many of our customers. As well as being a good table honey, it is very good for cooking with - extra flavour and it froths naturally when heated - lighter cakes! Honey is a very slow candying honey. (excellent keeping qualities)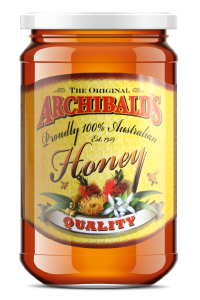 QUALITY
Archibald's special blend of only Australian honey that makes the perfect table honey.
Archibald's Quality is 100% Pure Australian Honey.
SBL
This honey is used by manufacturers as an ingredient in their own products. It is a dark, stronger tasting honey, sold in bulk for price efficiency. It is a blend of stronger tasting honeys. Not recommended as a table honey, but perfect for adding a nice strong honey flavour to gourmet cooking.